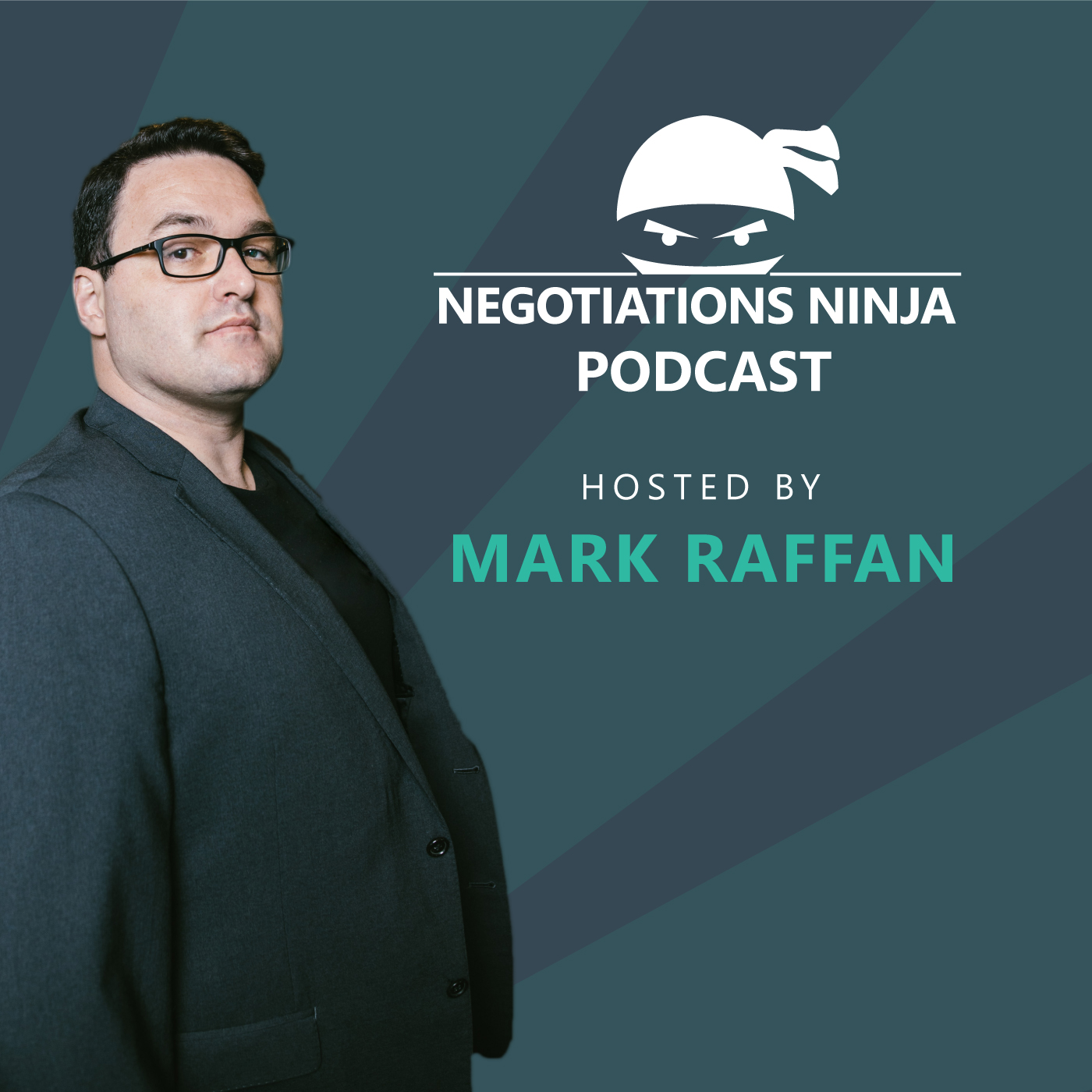 Episode 189  |  38:17 min
A Discussion of Core and Relational Identity
Episode 189  |  38:17 min  |  01.25.2021
A Discussion of Core and Relational Identity
This is a podcast episode titled, A Discussion of Core and Relational Identity. The summary for this episode is: <p>How do you approach conflict-based situations? How does your core identity impact the negotiation? Daniel Shapiro believes that your relational identity comes into play in a negotiation. What does that mean? We have a deep conversation about identity, tribalism, and taboos in this episode of <em>Negotiations Ninja</em>.&nbsp;</p> <p>Daniel Shapiro currently runs the Harvard International Negotiation Program. He briefly got involved in a deal 30 years ago doing work in Eastern and Central Europe, helping them transition from a closed to an open society. He&rsquo;s worked with business, governments, hostage negotiators&mdash;a little bit of everything. Don&rsquo;t miss his expert opinion.&nbsp;</p> <h2>Outline of This Episode</h2> <ul> <li aria-level="1">[2:01] Who is Daniel Shapiro?</li> <li aria-level="1">[3:42] Identity in the context of negotiation</li> <li aria-level="1">[5:06] The two aspects of identity</li> <li aria-level="1">[7:52] Generate fluidity in the discussion</li> <li aria-level="1">[11:22] Conversations about the sacred</li> <li aria-level="1">[17:04] The lures of tribalism</li> <li aria-level="1">[23:30] What&rsquo;s so taboo about taboos?</li> <li aria-level="1">[31:55] Embrace the word &ldquo;appreciate&rdquo;</li> <li aria-level="1">[36:13] How to connect with Daniel</li> </ul> <h2>Resources &amp; People Mentioned</h2> <ul> <li aria-level="1">Tony Blair: <a href="https://en.wikipedia.org/wiki/Tony_Blair" target="_blank" rel="noopener">https://en.wikipedia.org/wiki/Tony_Blair</a></li> </ul> <h2>Connect with Daniel Shapiro</h2> <ul> <li aria-level="1">Dan&rsquo;s <a href="https://www.danshapiroglobal.com/" target="_blank" rel="noopener">website</a></li> <li aria-level="1">BOOK: <a href="https://www.amazon.com/gp/product/B013Q702GU/ref=dbs_a_def_rwt_bibl_vppi_i1" target="_blank" rel="noopener">Negotiating the Nonnegotiable</a></li> <li aria-level="1">BOOK: <a href="https://www.amazon.com/gp/product/B000PDYVRK/ref=dbs_a_def_rwt_bibl_vppi_i0" target="_blank" rel="noopener">Beyond Reason</a></li> </ul> <h2>Connect With Mark</h2> <ul> <li aria-level="1">Follow Negotiations Ninja on Twitter: <a href="https://twitter.com/NegotiationPod" target="_blank" rel="noopener">@NegotiationPod</a></li> <li aria-level="1">Connect with Mark <a href="https://www.linkedin.com/in/markraffan/" target="_blank" rel="noopener">on LinkedIn</a></li> <li aria-level="1">Follow Negotiations Ninja <a href="https://www.linkedin.com/company/negotiations-ninja-podcast" target="_blank" rel="noopener">on LinkedIn</a></li> <li aria-level="1">Connect on Instagram: <a href="https://www.instagram.com/negotiationpod/" target="_blank" rel="noopener">@NegotiationPod</a></li> </ul> <p><a href="https://plinkhq.com/i/1300435924" target="_blank" rel="noopener"><strong>Subscribe to Negotiations Ninja</strong></a></p>
Key Takeaways
Show Notes
Guests
Identity in the context of negotiation
The two aspects of identity
Generate fluidity in the discussion
Conversations about the sacred
What's so taboo about taboos?
Embrace the word "appreciate"
How to connect with Daniel
How do you approach conflict-based situations? How does your core identity impact the negotiation? Daniel Shapiro believes that your relational identity comes into play in a negotiation. What does that mean? We have a deep conversation about identity, tribalism, and taboos in this episode of Negotiations Ninja.
Daniel Shapiro currently runs the Harvard International Negotiation Program. He briefly got involved in a deal 30 years ago doing work in Eastern and Central Europe, helping them transition from a closed to an open society. He's worked with business, governments, hostage negotiators—a little bit of everything. Don't miss his expert opinion.
Outline of This Episode
[2:01] Who is Daniel Shapiro?
[3:42] Identity in the context of negotiation
[5:06] The two aspects of identity
[7:52] Generate fluidity in the discussion
[11:22] Conversations about the sacred
[17:04] The lures of tribalism
[23:30] What's so taboo about taboos?
[31:55] Embrace the word "appreciate"
[36:13] How to connect with Daniel
Resources & People Mentioned
Connect with Daniel Shapiro
Connect With Mark